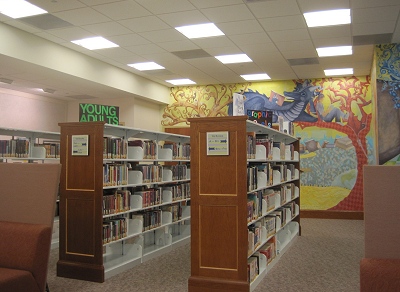 Phone:765-362-2242 ext. 2
E-mail: youth@cdpl.lib.in.us
Ask a question: Ask-a-Librarian!
If you are interested in magazines, check out the latest issues of American Cheerleader, Girls' Life, Seventeen, Teen Vogue, and J-14 in the YA area!
The Young Adult area has graphic novels! Search our collection of comics and manga, including Vampire Knight, Naruto, and DC superheroes. Also -Monthly comic books, Superman and Xmen.
---
Eliot Rosewater Award

The Eliot Rosewater Indiana High School Book Award is chosen every year by high school students like you!
This Year's Nominees
Eliot Rosewater @ CDPL
---
Getting ready to take the SAT? Making decisions about college?
Take home and study one of CDPL's SAT test prep books located on the 2nd floor.
Browse current reference books like the College Board College Handbook, Fiske Guide to Colleges or Peterson's Scholarships, Grants & Prizes.
---
Not sure what to read next?
Check out the latest award-winning Young Adult books!