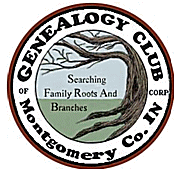 We invite you to attend meetings at the Crawfordsville District Public Library in the Donnelley Room on the basement floor on the second Tuesday of each month at 7 p.m. We have a monthly program and refreshments, annual dinner, and quarterly After Hours research in the library.
Visitors are welcome to attend!
Call 765-362-2242 ext. 118 or email ref@cdpl.lib.in.us for more information or find us on Facebook: Genealogy Club of Montgomery County Indiana.
Our members help each other and guests with their research. The Club works on restoring Pioneer Cemeteries, and other projects. Interested in becoming a Genealogy Club member? Complete our membership application (.pdf)
---
Genealogy Club Newsletters: Roots and Branches
Friends, Foes, and Frenchmen: a Brief History of the Northwest Territory to and through the American Revolution (.pdf): Presented by James S. Swift — Feb 9, 2016
Who Sold the New Purchase? (.pdf) Presented by James S. Swift — March 8, 2016
Family Search Wiki (.pdf) By Stephen Thompson — August 9, 2016
Montgomery County Underground Railroad Part II (.pdf) By Shannon Hudson — September 12, 2016
The Underground Railroad in Indiana (.pdf) By Jeannie Regan-Dinius –November 8, 2016
We Like Ike! By Beth Swift –January 10, 2017
Lew Wallace and the Elstons By Beth Swift –December 6, 2016
15th Anniversary of the Genealogy Club of Montgomery County By Dellie Craig — March 14, 2017
Cemetery Project Update By Judi Kleine — March 14, 2017
The History of the Genealogy Club of Montgomery County By Dian Moore — March 14, 2017
Brown Township By Karen Zach — June 13, 2017
History of Linden Depot By Elizabeth Henderson — March 13, 2018
---
Current issue:
February 2018 (.pdf)