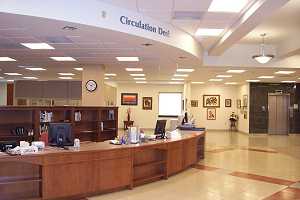 Phone: 765-362-2242 ext 1
E-mail: circ@cdpl.lib.in.us
Ask a question: Ask-a-Librarian
The Circulation Department is where you can check out items, return items, renew items, get a card, place a hold, register for Homebound Services . . . and do much more. See the Circulation staff if you need help knowing where to get started in your library!
If you are homebound because of your health or temporarily from surgery or illness, our volunteers will deliver your requests. Register for our Homebound Services by calling 765-362-2242 or e-mailing homebound@cdpl.lib.in.us
---
Find out how to…
Get a Card
More than one type of card is issued by the library. The following should help you decide what card you should obtain.
Note: All cards expire after one year.  (An Ivy Tech card expires according to student ID)
Crawfordsville District Public Library Card
With proof of residence, free library service is provided to the residents of Crawfordsville and Montgomery County's North and South Union Township. Present one printed identification with name and current mailing address. The patron completes a registration form or Spanish-language registration form available at the circulation desk.
Note: If you live in a township not serviced by the library (Coal Creek, Wayne, and Ripley Townships), you must pay $56.50 per year to obtain a fee card.  Scott Township residents may receive a free card from Ladoga-Clark Township Public Library.
Renewal of Library Card: Renewal may be done during the month of expiration or afterward.
Lost Card: The patron must show identification in order to replace a lost card. The fee is $1.00.
Change of Information: We request that patrons notify the library at their earliest convenience if a change occurs in an address, a phone number, or a last name.
PLAC (Public Library Access Card)
A Public Library Access Card must be purchased at a person's local library. To do so, the patron must have a current card at this library. The charge is $65.00 per year, effective January 1 — December 31, 2016. This is an individual card for use only by the cardholder.
Reciprocal Agreement Card
The name of a patron's local library must be listed on our reciprocal agreement sheet. The patron must have a current library card at the local library.
Courtesy Cards
Courtesy cards are issued under the following circumstances:
Wabash Card: Issued to a student at Wabash College who does not have a Crawfordsville home address.
Taxpayer Card: Issued to a person living outside the taxing district who owns property (a personal home or business) in Crawfordsville or Union Township. The patron must show a current tax receipt.
Teacher Card: Issued to all educators who teach in Montgomery County.
Minister card: Issued to a minister whose church is located in Crawfordsville or Union Township but who resides outside of the library taxing district.
CARA OR CACHE Card: Issued to a student or teacher or tutor with the Crawfordsville Adult Reading Association OR CACHE who is entitled to free library service. Card can be used as long as a person's involvement with CARA continues.
Ivy Tech Card: Issued to an Ivy Tech student.  The card expires according to date on the student's Ivy Tech ID.
Student Courtesy Card: Issued to any student in a public or private school, including homeschool, who resides outside the library's district but within Montgomery County. Student courtesy cards are available to students residing in Coal Creek, Wayne, Ripley and Walnut Townships. Student residents of Franklin, Madison, Brown, Sugar Creek, Scott and Clark may receive a reciprocal card at CDPL upon presenting a current library card in good standing from the library serving their local township.
Institutional Card
Issued to nursery schools, private schools, and nursing homes located in Crawfordsville or Union Township with permission of the library director. The head of the institution must send a letter to the library director agreeing to pay for lost or damaged books and naming people authorized to use the card.
Corporate Card
Issued to the owner of a business in Montgomery County if s/he sends a letter to the library director agreeing to pay for damaged or lost items checked out on the card. Employees of the business may use the card and must have the card to check out items.
Visitor's Card
The user pays a fee to receive the card (for patrons visiting Union Township). The fee is non-refundable, and the amount depends on the length of use.  There is a limit on how many items can be checked out.
$15.00 — 1 to 3 months
$25.00 — 4 to 8 months
$56.50 — 9 to 12 months
Homebound Patron Card
If a patron does not already have a library card, a volunteer will take a library card application to the patron on the first visit. The volunteer then returns the application to the circulation desk.
Renew Your Items
Circulating items are renewable one time. If an item has been requested by another patron while you have it checked out, you cannot renew that item.
Note: 7-day items are non-renewable.
You can renew your items
in person at the Circulation desk
by phone: 765-362-2242 ext. 1
through your account via the web: You must know your PIN to log on to your account (when you first registered for your card, you had the opportunity to choose a PIN; if you have forgotten your PIN or need to set one up, go to the Circulation desk and ask the staff to do this for you).
Receive E-Mail Reminders
Did you know that the library can send e-mail reminders two days before your items are due? If you want to begin receiving e-mail reminders, make sure we have your correct e-mail address.
Reserve a Meeting Room
---