---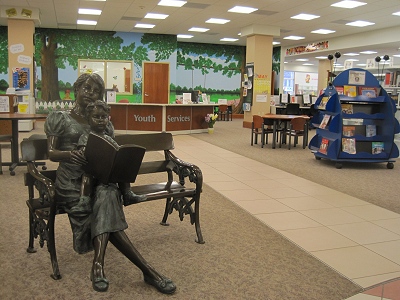 Phone:765-362-2242 ext. 2
E-mail: children@cdpl.lib.in.us
Ask a question: Ask-a-Librarian
Activities in Children's Services!
The Children's Services department hosts a variety of regular story times and activities, as well as special programs for kids and parents. See our Events calendar for what's coming up.
---
Story Time @ CDPL!
Preschool Story Time: Tuesday at 10am OR 4pm
Family Night Story Time: Tuesday at 7:00pm
Toddler Story Time: Wednesday at 10am
Baby Story Time:  Thursday at 10am
Wiggle & Giggle: Friday at 10am Music and Movement
Kindergarten Book Club: Wednesday at 4pm (registration required)
Please check the events calendar for the current schedule. 
Monthly Programs @ CDPL
First Monday at 4pm – LEGO Club
Second Monday at 4pm- Primary Chapter Book Club for grades 1,2 and 3 (registration required)
First Tuesday at 12:00pm – Book Munchers (Home schooled children)
First Thursday at 4pm – Sweet Treats (registration required)
Third Monday at 4pm – Elementary Book Club for grades 4 and 5 (registration required)
Fourth Monday at 7pm – Teen Book Club (registration required)
Fourth Saturday at 10am – Beginner Art Class (registration required)
    – All events subject to change during May, June, July and August — please check the events calendar.
---
Teacher Card
If you are a teacher in Montgomery County you are eligible for a teacher card.  You must come to the library with ID and something to show you work at the school to obtain the card.
If you already have a teacher card, you may renew online by using this form: Teacher Card Application
---
Wiggle and Giggle

Come join this fun time of movement and music. We encourage parents to join in as many listening skills and following direction skills are practiced. Plus it's just down right fun!
---
Elementary  Book Club
Ms. Janella leads the Elementary Book Club! Call Children's Services for more information: 765-362-2242, ext. 115, or email youth@cdpl.lib.in.us.
The Youth Book Club meets the 3rd Monday of each month at 4 pm. The club is for 4th and 5th grade.
Upcoming books:
Little House in the Big Woods by Laura Ingalls Wilder (January 2016)
Box Car Children by Gertrude Warner (February)
Whatever After Fairest of All by Sarah Mlynows (March)
Encyclopedia Brown (April)
The Lion, Witch and the Wardrobe (May)
Corby Flood (June)
The Great Escape Magic Shop Series (July)
Mrs. Frisby and the Rats of NIHM (August)
9. Hello, Mrs. Piggle Wiggle by Betty MacDonald (September)
10. Rabbit Hill by Robert Lawson (October)
11. The Black Stallion by Walter Farley (November)
12. Sign of the Beaver by Elizabeth Speare  (December)
13. Jim Ugly by Sid Fleischman  (January 2017)
14. The Trumpet of the Swan by E.B. White  (February)
15. The Indian in the Cupboard by Lynne Reid Banks  (March)
16. Sideway Stories from Wayside School by Louis Sachar (April)
17. Dying to Meet You by Kate Klise (May)
18. Storm Runners by Roland Smith  (June)
19.Extra Credit by Andrew Clements (July)
20.The Sherlock Files the 100 Yr Old Secret by Tracy Barrett (August)

---

Primary Chapter Book Club
---
Book Munchers…
…is a program for home schoolers on the first Tuesday of every month at 12:00. No registration necessary. Bring your lunch, listen to stories, and do activities with Ms. Jane!
---
AR BookFinder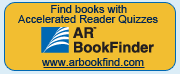 Use this comprehensive database to find Accelerated Reader books. Search by interest level, title, author, topic, and more!
---
Scholastic Reading Counts!
This searchable database provides information about books that are supported by Scholastic Reading Counts!
---
 Sweet Treats Cooking Fun!

Sweet Treats cooking fun for kids ages 6 and up! Kids create a different recipe each month. Registration is required. This class fills up fast!
Please call us at 765-362-2242 Ext. 115
---
Art For the Beginning Artist with Ms. Linda ~ Ages 6 and up.
---
In Family Story Time we…
– Share books and stories appropriate for a wide age range. More sophisticated stories build on a child's growing vocabulary, sense of humor, and knowledge of the world around him or her.
– Use music and movement. These activities foster physical coordination and develop the ability to hear the different sounds in words through rhythm.
– Extend the story. Activities and crafts will spark conversations, refine motor skills, and provide opportunities for creative expression and togetherness. Program will begin August 2017.
---
New Program! Call to register your Kindergartner! 
In this program we hope to motivate students to be lifelong lovers of the library. We will demonstrate library manners and basic library skills. Each week students will take home a pre-selected book to read alone or with a parent. We will discuss the book together at the next meeting, then have a fun round of "quiz show" questions with lights and sound. We will have snack, more stories, music, crafts and fun activities!
Students will earn points every week.
1 point for attendance
1 point for bringing their library card (all students are eligible for a courtesy card)
5 points for checking out a minimum of 4 fiction and 1 non-fiction book
(students are to turn in a parent signed check-out receipt)
When a student has accumulated 50 points, they will earn a book to take home to keep. Point accumulation restarts at the new semester.
We will have a traveling mascot (Clifford the Big Red Dog) that each student will have the opportunity to take home for a visit. A journal will accompany the mascot for you to tell us of his journeys.
---
---
Please take a few minutes to respond to our survey. Thank you!