Phone:765-362-2242 ext. 2
E-mail: children@cdpl.lib.in.us
Ask a question: Ask-a-Librarian
---
Teacher Card
Are you eligibile for a Teacher Card? If so, use this form to apply: Teacher Card Application
---
AR BookFinder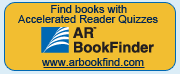 Use this comprehensive database to find Accelerated Reader books. Search by interest level, title, author, topic, and more!
---
---
Scholastic Reading Counts!
This searchable database provides information about books that are supported by Scholastic Reading Counts!
---
Early Literacy Digital Learning
The AWE Early Literacy Station is an all-in-one digital learning computer with an expansive selection of learning games and applications for children ages 2-8. It requires no Internet connection. The AWE Early Literacy Station was awarded to us through a grant from the Indiana State Library.
---
Activities in Children's Services!
The Children's Services department hosts a variety of regular storytimes and activities, as well as special programs for kids and parents. See our Events calendar for what's coming up.
---
Youth Book Club
Ms. Janella leads the Youth Book Club! Call Children's Services for more information: 765-362-2242, ext. 115, or email children@cdpl.lib.in.us.
---